MARGARET & BRANDON
The Wedding of
Margaret & Brandon
Their Vendors:
Ceremony and Reception: The Vanderbilt at South Beach
Outfits for Bride and Groom: Falguni Shane Peacock
Photographer: Max Photo NY
Makeup & Hair: Beauty by Tamanna
Florist: Royal Touch Event Inc.
DJ:Ace Events NYC
Tassa : Evolution NY
The First Date
Brandon and I met through mutual friends. We spoke for about a week and I asked him out on our first date to the movies followed by dinner with drinks. From then on sparks were flying and we became inseparable. Our proposal was just as special because I thought we were going to celebrate a friend's engagement at Old Westbury Gardens but it was in fact ours!
When planning our big Indian wedding, we looked at several venues in New York and Long Island but couldn't find the right fit until we saw The Vanderbilt at South Beach. Every other place did not have that "wow" factor that the Vanderbilt had in terms of decor and amazing views. Brittany took us on a tour of the venue and explained how the day would flow. She was a pleasure to talk to and work with as she answered all of our questions. We fell in love with the open space, decor of the venue and the view of the waterfront.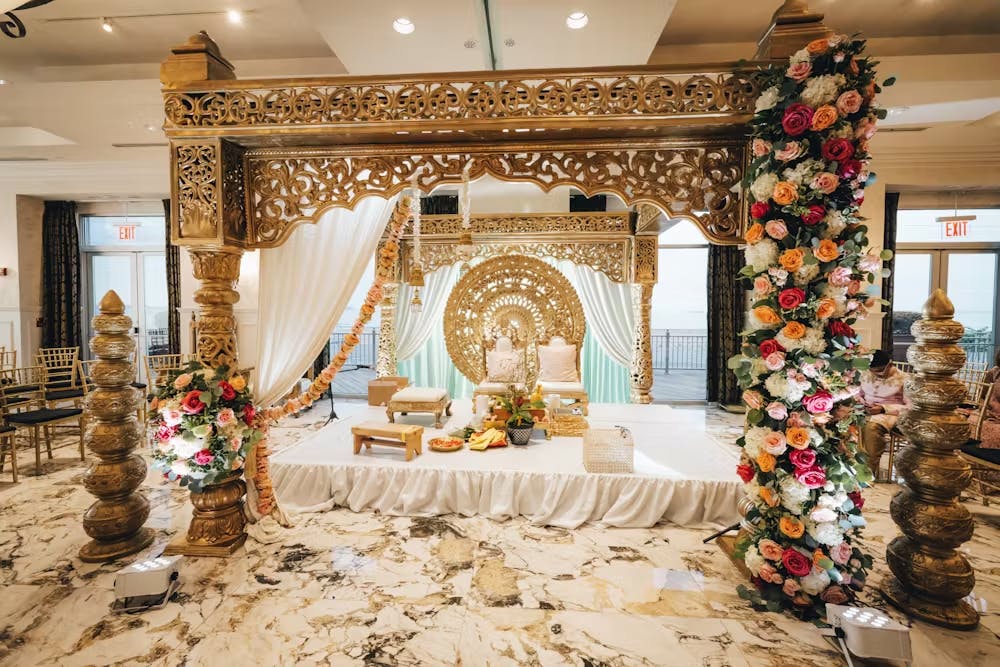 The Vanderbilt provided an elegant atmosphere, and the chef prepared a phenomenal Indian vegetarian meal. We still get compliments to this day of Lalith's amazing food! Brittany was with us every step of the way and never left us feeling stressed.
The ceremony first started with Brandon's arrival and the blessing from my family. Brandon arrived in style, entering in a DeLorean and Tassa drums to usher in the guests. Our ceremony was in the main room with a beautiful decorated mandap. We were blown away when we walked into our main event room. Our decorator did an amazing job incorporating the mint, pink, orange and white florals. Behind our sweetheart table was the gold mandap stuffed with flowers which served as the ultimate photo opportunity for guests.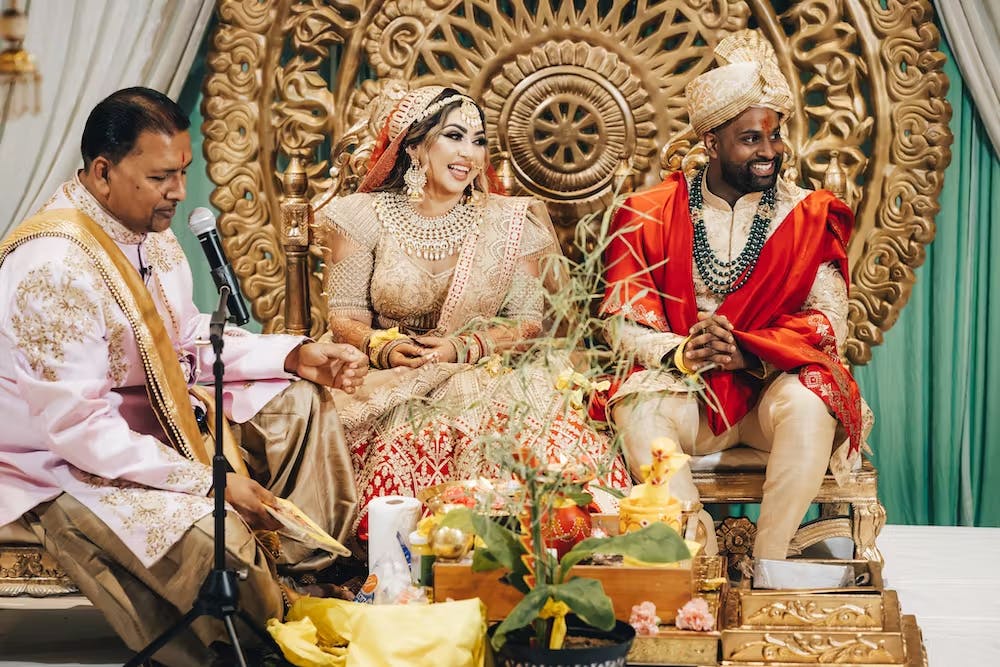 Cocktail hour was held in the Palm room and the attached patio area. Our guests all commented on the unique arrangement of food stations and vast array of menu choices. Food stations were set up around the room with assorted appetizers including samosas and a Mediterranean vegetarian table. Dinner was served buffet style including vegetable biryani, butter chicken style tofu, a fresh pasta station, okra and tandoori potatoes. Everything was delicious and the food was never ending! Our signature drink was a white wine sangria with fresh fruits which was perfect for the cool summer night reception.
Brandon and I are grateful to have been surrounded by all our friends and family, some of whom flew in from Cyprus and Trinidad. Each of our vendors did an amazing job and exceeded all expectations.
To Brittany and the entire Vanderbilt staff, we are so thankful for this perfect experience and how seamless the whole event process was!
The Vanderbilt at South Beach
300 Father Capodanno Boulevard, Staten Island, NY 10305
718.447.0800, www.vanderbiltsouthbeach.com