KATHERINE & PHILIP
The Wedding of
Katherine Gibbons & Phillip Pye
Their Vendors
Ceremony: Resurrection-Ascension Church
Reception: The Vanderbilt at South Beach, 718.447.0800, www.vanderbiltsouthbeach.com
Gown: Reem Acra from Wedding Salon of Manhasset
Bridesmaids: Hayley Paige
Suit: T.M. Lewin, London
Photographer: Matt Simpkins Photography
Cinematographer: NST Pictures
Makeup & Hair: Amanda Thesen Beauty
Florist: Carroll's Florist
Cake: Jackie's Cake Boutique
DJ: Dash of Class Platinum Entertainment
Ocean Views
Phil and I met while working as production dancers and aerialists on board a luxury cruise ship. Our first date was at one of the ship's restaurants named Tuscan. We worked there for six years together, during which time we were lucky enough to travel the world. During one of our trips to Paris, Phil proposed on the Bir-Hakeim Bridge just before sunset. The Eiffel Tower was in the background and he hired a professional photographer to capture the whole thing.
When planning our special day, we looked at several venues in New York and Long Island but couldn't find the right thing until we saw The Vanderbilt at South Beach. My family is Irish-American and Phil's family is from the United Kingdom. Sal Sulsenti, senior event planner, took us on a tour of the venue and explained how the day would flow. We loved the venue's big open spaces and the boardwalk leading to the ocean. It felt serendipitous of the way Phil and I met and fell in love.
We knew the Vanderbilt could provide an elegant atmosphere and delicious food to satisfy our various guests. Sal was with us every step of the way. He ensured all our questions were answered .and was never more than a call, email, or text away. Everyone at the Vanderbilt strives for perfection and it shows.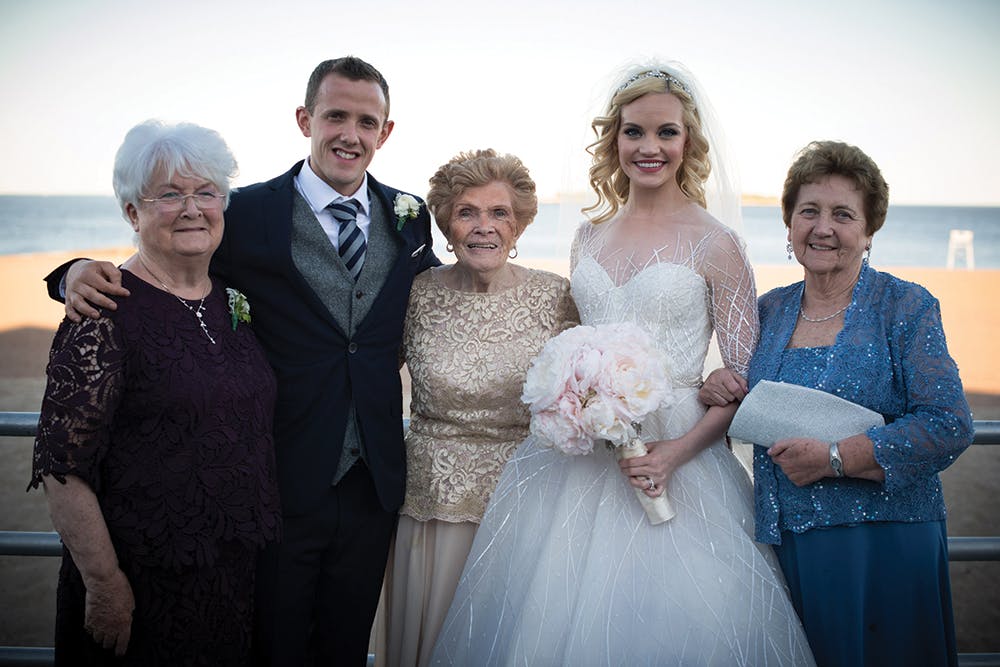 The church we were married in holds special meaning to my family. My grandfather and aunt's funeral services were held there and my sister and I were also baptized there. It's a beautiful church with large stained glass windows. After we said "I do," guests exited the church and were greeted by an Irish bagpipe player outside.
Cocktail hour was held in the Palm room and on the attached outside patio area. Our guests all commented on the unique arrangement of food stations and vast array of menu choices. Food stations were set up around the room including a panini and soup station, a fresh sushi station, a carving station serving sherry maple glazed ham or roast turkey breast, and more.
Butlers passed hors d'oeuvres such as whipped goat cheese and prosciutto crostini, stuffed mushrooms, and baked clams oreganata. Our signature drink was a raspberry martini called "Pye Squared" which was inspired by our time on cruise ships.
We were blown away when we walked into our ballroom. Our florist did an amazing job incorporating our white floral color scheme into the room and alternating centerpieces. Behind our sweetheart table, there was an incredible flower wall that our guests loved taking selfies by throughout the night. We also had a photo booth and lounge furniture, which allowed guests to relax on the side of the dance floor.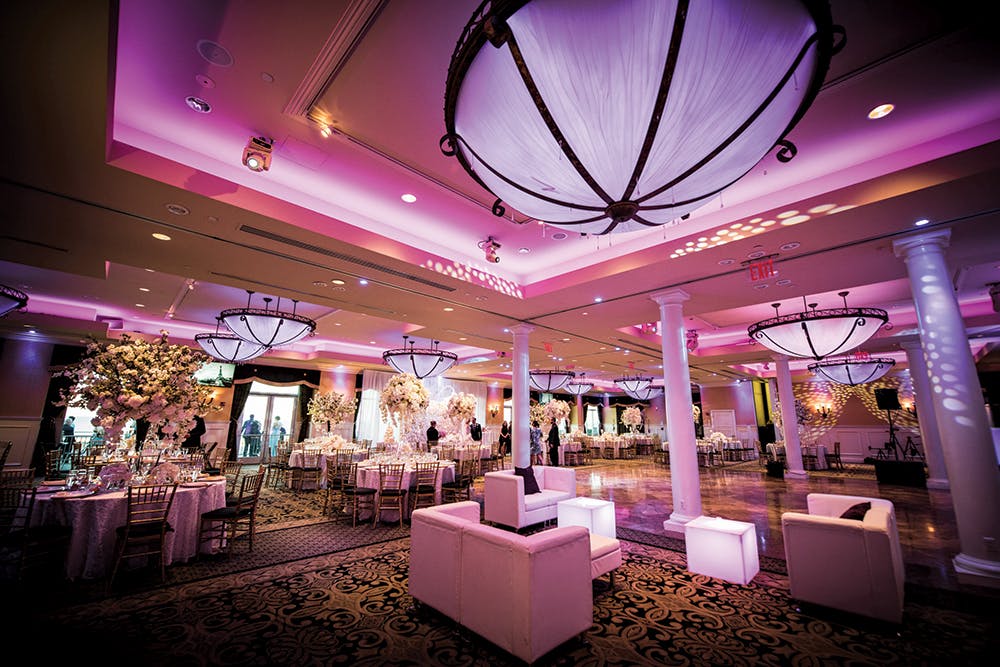 Phil and I feel so lucky to have been surrounded by all our amazing friends and family on our wedding day, some who flew in from across the world. To our parents, thank you for all your support and love, and a special thanks to my mom Lillian for your help with endless planning. Each of our vendors did an exquisite job within their particular specialties and we couldn't have been happier with the services they provided. To Sal and the entire Vanderbilt staff, we are so thankful for this perfect wedding experience and honored by the love you showed us.
The Vanderbilt at South Beach
Staten Island, NY, 718.447.0800
www.vanderbiltsouthbeach.com